Tomorrow evening at The Visual Arts Gallery is an opening for a show The Influentials. It is a show of SVA female alumni and their mentors showing works together side by side. I don't know how I got to invited to be in this show of mainly fine artists, many of them very established, but anyway, I will be showing, together with Thomas Woodruff, who was my undergraduate illustration instructor, then grad school personal advisor, and currently my boss/chair at BFA Illustration program where I have been teaching since 2003.
I wasn't sure what to show at first. I wanted to show something I hadn't shown anywhere, which, in process, is not illustration.
When last severely cold winter was getting started, University of the Arts kindly invited me to participate in the Von Hess Artist Residency, to create a limited edition multi separation offset print with the master printer Amanda D'Amico. Since the print got finished, I was looking for an opportunity to show. So, this will be what I will be showing. Without Amanda's literary 'master' skill, I would have never be able to make this 6 color separation prints. Although the original image was created last year for Blowup show at the Society of Illustrators, this new version is nothing like digital print outs.
Opening reception is tomorrow. (invite on the bottom of this post).
If you have time, or if you are already planning on opening hopping at Chelsea's new gallery season, please schedule a stop at The Visual Arts Gallery.
Big thank you to everyone at the gallery, everyone at UArts, especially Matt and Amanda, and Thomas Woodruff.
These are the six separations. 1)gray 2)blue gray 3)first red 4)second red 5)skin color 6)white dots for flowers
I had no idea any color on Pantone is pretty much be mixed from generic print ink
inks, inks, pretty but stinks.
cleaning the plate before printing
Very old fashioned offset printer. It is a machine, but the result depends on how the master printer adjust the machine according to the image as well as the weather of the day and other factors.
color getting printed…
Amanda checking the alignment. Minor adjustments are made often.
almost there.
final prints finished on the machine.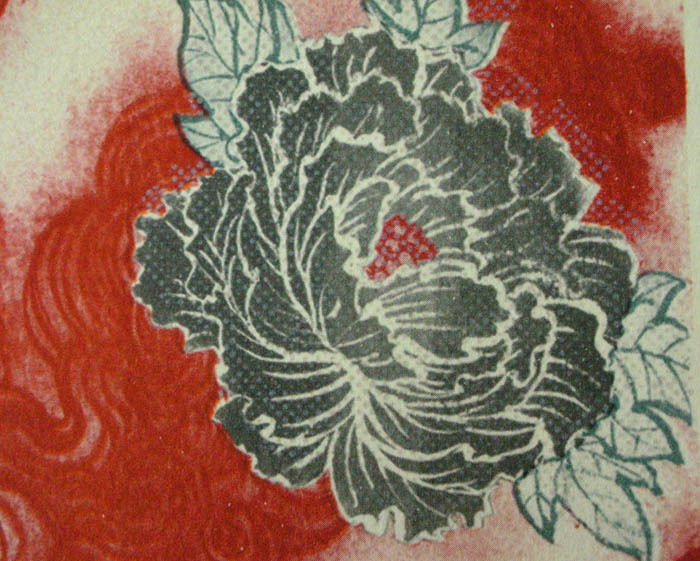 This is the beauty of the print that never exist in digital output. White dots are printed last with white ink. To make the color crisp, white was printed twice. For 6 color separations, print was pulled 7 times for the result.
Done! Yay! Amanda, you rock.